Belfast came back with a bang with the lifting of restrictions. The spirits were high, the craic was a plenty and there were a few sore heads the next day I am sure. Over the next few months, more restrictions will be lifting and I will be writing about them, but as it stands with what's open, these are some of Belfast's best bars. They have had a tough year, so get down and support them and drink in the Irish hospitality.
'Nothing like a good old 'YEOOOOOO' when a glass is dropped'
I am feeling the heaters, fairy lights, blankets filling the outside seating across the city, some of which from the looks of social media looks very 'insidey outside'. We might not be able to actually sit inside yet, but regardless of the chilly nights going forward, there is absolutely no doubt in my mind that the city will rally together to support the beer gardens. They will be packed (safely), the crowds will be feasting and the craic will be epic with a build up of over a year. 
Whatever you are looking for, be it rooftop, quirky, brick walled, unconventional, high end, relaxing or Irish night out, you'll find it in 'Our Wee Belfast'.
Bootleggers
Bootleggers, giving credit to the outlaws in America, to those1920's folk who stood strong against the prohibition, Belfast supports you. Bootleggers is a step back in time, think gangsters, outlaws and moonshine. 
You can sit back and relax in the comfy bar, with signature cocktails local and American craft beer. Belfast is ready to come back to life this weekend. Sit in the outside area and watch the town buzz and bounce back while you enjoy proper burgers, tacos and their famous chicken wings that I can confirm are ridiculously delicious. The bar staff are friendly and the owners have been working hard, be sure to call in and if there is a wait for a table, the craic is always 90.
Muriel's Cafe Bar
Just around the corner from Bootleggers is the quirky Muriels Cafe Bar, a much loved Belfast gem. I'll set the scene, you're all dressed up, ready to leave your home from home for the night (or day, but I recommend night for this experience), you're not sure what to expect in Belfast, but you're excited.
I can tell you that you are right to be excited. Muriel's inner hipster shines in a red light with the ceilings lined with underwear and lingerie, it's quirky, it's fun and it brings an electricity to the vibe as you wait for your Flaming Zombie to be made by the chatty staff. You're already reading the menu for your next drink, because you know you're not leaving anytime soon of your own free will.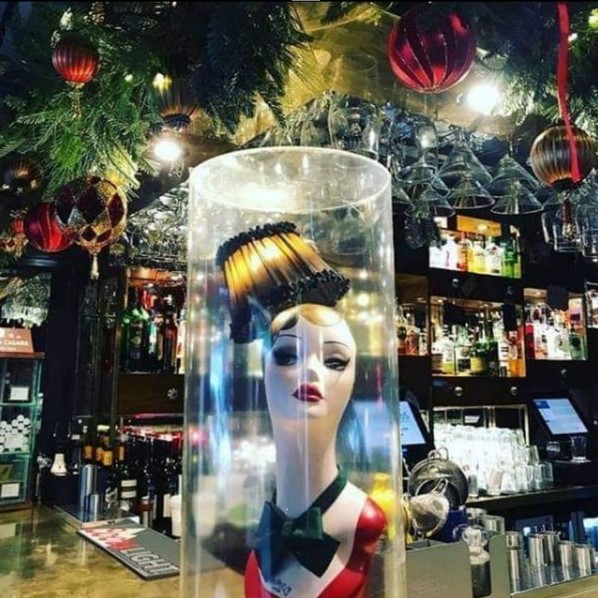 The bar 'snack' menu, that I can confirm is more than just your average snack menu, includes a sharing antipasti-and-cheese-platter, and I am sorry to be dramatic, but it's out of this world. Order this and ask for a jam jar cocktail and sit back, relax in the bustling city centre local favourite and just let the day pass you by. 
Cargo By Vertigo
Belfast's largest outdoor licensed restaurant, located in the heart of Titanic Quarter is all set to welcome back the crowds, socially distanced. With so many delicious options, tasty cocktails and stunning views, there really is nothing about this place that I'm not loving.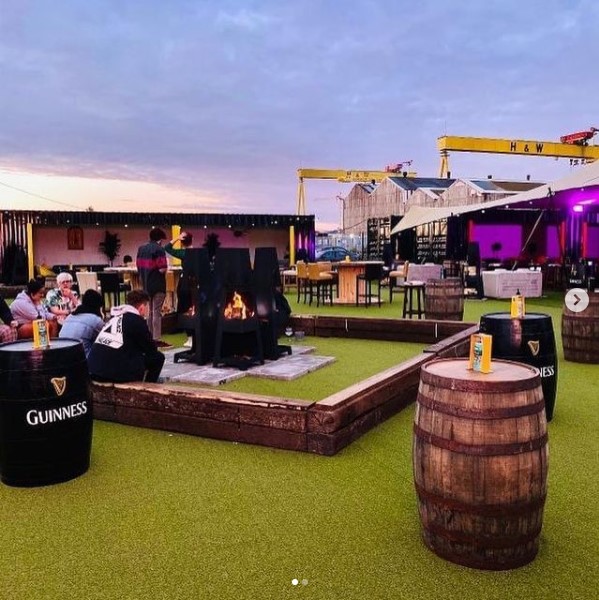 The space is a quirky mix of random objects converted into booths, dining areas and VIP private container booths. Look out to the cranes as you take your first blissful sip. After a year of no bars, this is the perfect place to sit down and drink in all that you've been missing.  The atmosphere is as close to festival vibes that we can possibly get at the moment in Northern Ireland and the perfect weekend is approaching as the sun is deciding to grace us with its presence.
The Perch Rooftop Bar
Shout your love for Belfast from the rooftop, quite literally in this absolutely unbelievable venue. Think Alice-In-Wonderland. Just to give you a heads up, you will arrive and think that you are in the wrong place, met by a dimly lit walkway that will spark the curiosity in you, you will face a fork in the road (path to the bar). Opt to wait for the old school to lift or begin the voyage up the stairs. It's so worth it, but it can leave you a tad out of breath.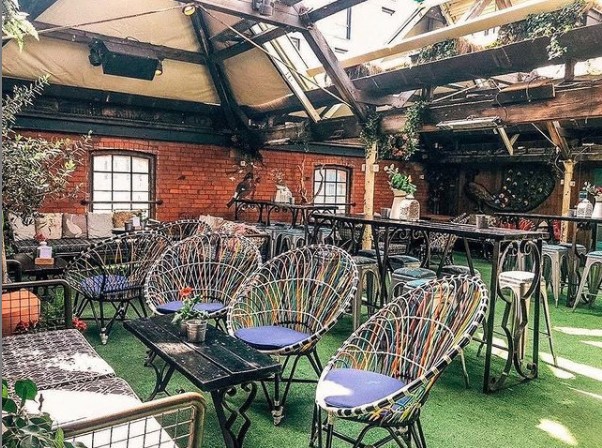 The cocktails here range from the classic Bellini – to the bizarre yet refreshing – Largarita, service with an upside bottle in the glass. This place is 'woodland glam', made for the good weather!  The food is made for sharing, and you can get pizza in a takeaway pizza box to sit and pass around between friends. Champagne glasses, paper cups and flower pots are just a few of the vessels chosen for your favourite drinks.
The Dirty Onion
Summer vibes are written all over this place, inhabiting one of Belfast's oldest buildings that dates back to 1780 that was a spirit house. It's come a long way from back then, but maintained the rustic aesthetic and original wooden frame to honour the amazing original architecture.  
Seating and craic is plenty with beer and whiskey on tap (the whiskey not literally), you are sure to have the best day or night out here. The Dirty Onion is known for its association with An Droichead, the musical culture centre, so music is a huge attraction which finger crossed will be back in action ASAP.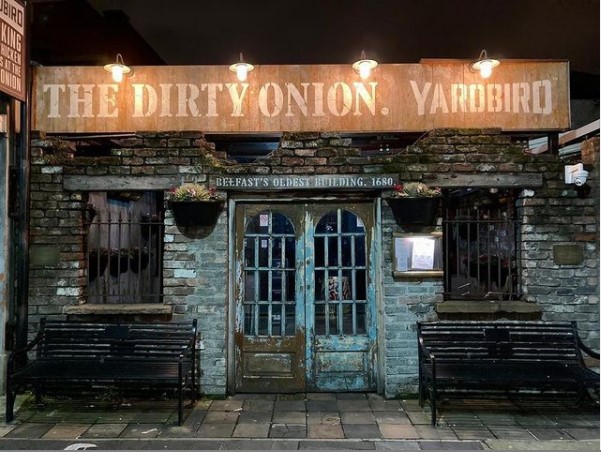 If you are feeling peckish, or a bit more than peckish, call in upstairs to 'Yardbird', Brazilian rotisserie chicken is served up here and it's a local hotspot.
Filthy McNasty's
As I said in a previous blog 'Best Areas To Stay In Belfast', the city is split into quarters that aren't actually quarters. A non official addition to the quarters in Belfast is 'The Filthy Quarter', the collection of spaces and bars that are connected to the most well known 'main'  of them all 'Filthy McNasty's'.
You are on a whirlwind the second that you walk into this place, with surprises at every turn. I would usually at this stage try and put an image into your head, but in this case,  I cannot as I have not been to see all of their hard work over lockdown. There are some teasers on social of course which depict a large beer garden transformation that I am very excited about. From all of my experiences, Filthy's has always been an unbelievable night out.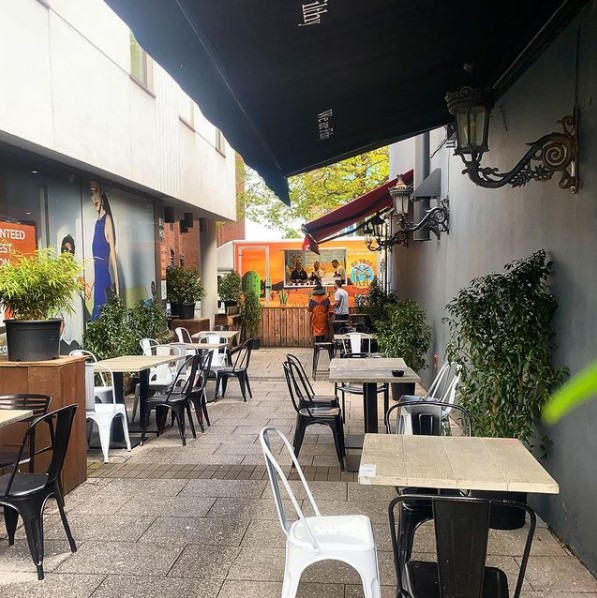 A short stroll from our apartments this side of the City and an experience I would encourage you to pursue. This is a much loved bar in Belfast and you will soon see why, I am excited to see what they have done to the place.
Revolucion De Cuba
Belfast isn't exactly known for it's wonderful climate, but at Revolucion De Cuba, you're suddenly transported to a Cuban paradise. With a huge cocktail range and outrageously enticing drinks offers this is definitely a stop you need to make. 
I would recommend trying their Cajun cream fries and small tapas plates (way too moreish). I think that 6 between 2 and a side and a few cocktails is a really good feed – but please understand that I am very greedy when it comes to food.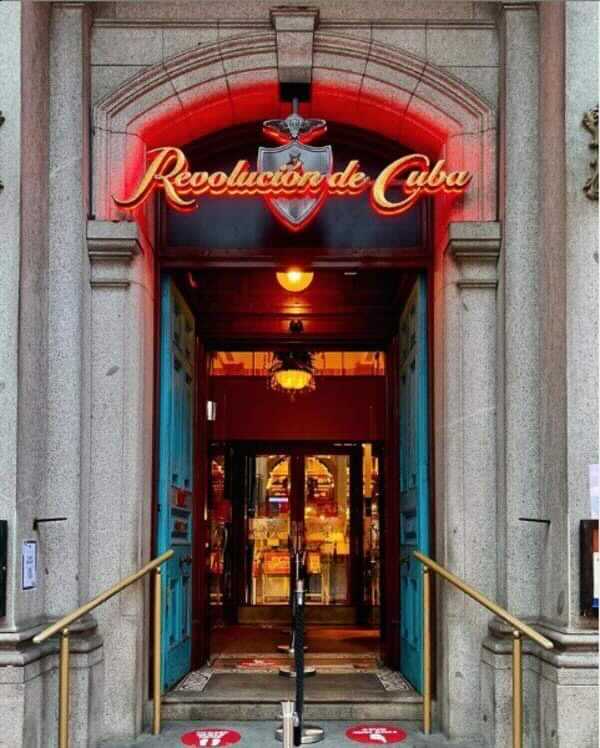 The staff are absolutely amazing and so much fun, one in particular is the lovely Ricky in the restaurant that I have been lucky enough to be greeted by numerous times and each time is just as enthusiastic as the first. Make sure to ask for his recommendations, he's the best! You'll spot him a mile off if he's on shift, moving around at speed keeping everyone happy.
Love & Death 
Now this is a business that has worked behind the scenes through lockdown! I mean big time. Love and Death have gone all out and are set to transform Ann Street into Costa Del Belfast this weekend. European vibes from the on street seating and they've enough heaters to keep the whole of Belfast warm when the sun clocks off for the night.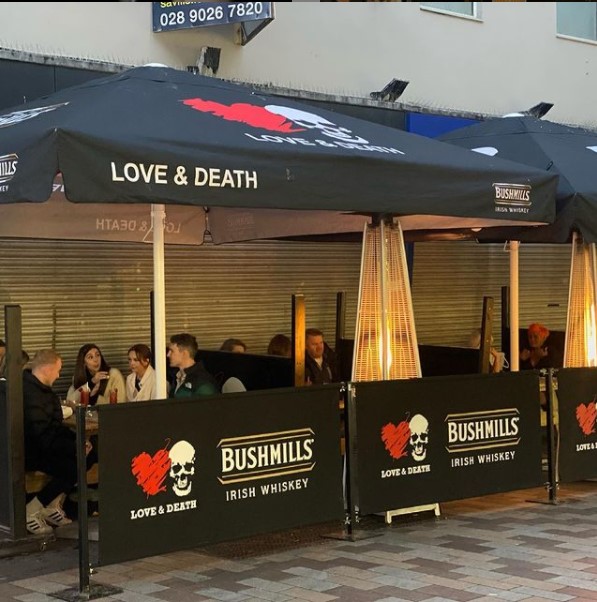 Love and Death have a strict 'you must dead on and good craic' policy when hiring, so you can relax and have a laugh while you enjoy your drinks. They are going to be absolutely buzzing this weekend as they are already fully booked, but they have space during the week and next weekend, so make sure to get booked in through their Facebook page. If you don't get a table in Belfast, remember that they are still delivering their cocktails.
A Bit Out Of The City Centre
The Doyen
Set out of the city centre is The Doyen, at the top of the Lisburn Road, this place is going to be busy this weekend with their amazing outdoor seating that wraps around the building.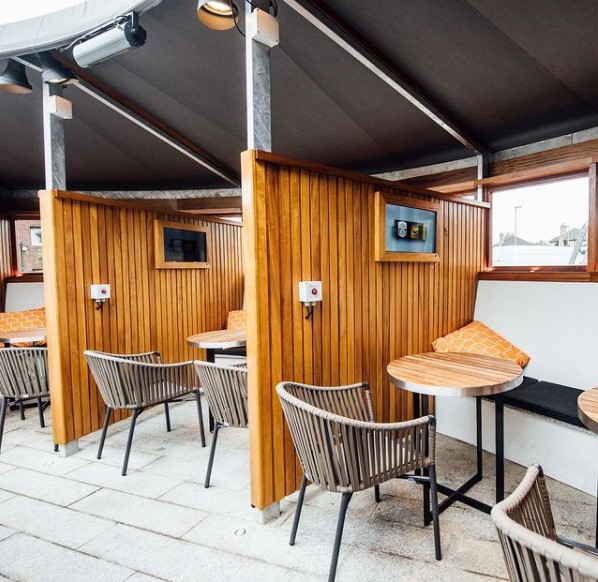 The head chef serves up imaginative twists on old favourites, so you can sit back with a pint or order a perfectly chilled bottle of wine and have a lazy afternoon in the sun that the forecast is promising us. If you are in the boat that so many are and are a little nervous heading back out, then this is the perfect place for you with the generous outdoor space to put your mind at ease.
The Bowery
The Bowery is the newest addition to the ever expanding Lisburn Road and it looks absolutely stunning. With a huge refurbishment project carried out throughout lockdown, The Albany is no more, but there is now a big outside terrace, draped perfectly in green foliage just in time for you to wine and dine in the sun. Obviously I have not been in yet as it is only greeting guests from Friday, but judging from their Instagram chat, the carrying of a giant glass of gin and the beaming smiles on the staff, I think the Lisburn Road is going to have a new firm favourite. Food, drinks, sport – thank god lockdown is over, because I need out!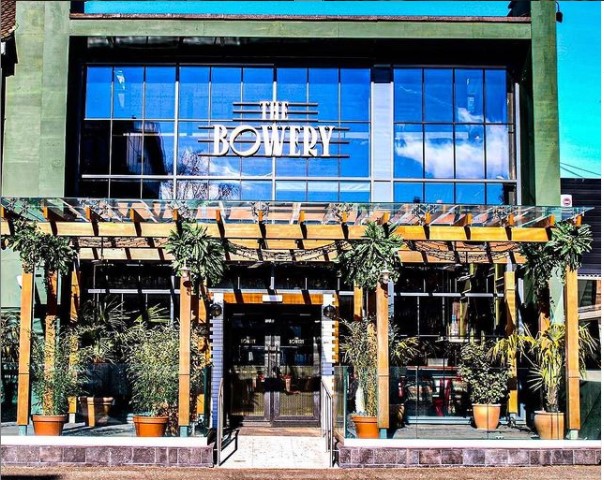 The Best Day/Night Out
Heading into this weekend, just remember that hospitality has been out of action for the best part of a year, be kind to the staff as they find their feet, enjoy yourselves and don't forget sunscreen. This weekend is going to be absolutely out of this world, the Deliveroo app is going to get some workout Saturday and Sunday. A couple of my favourites are Tribal Burger, the life changing burger pioneers (more info on these burgers!) and Bao Bun! 
** All Image credits go to the businesses individual Instagram's **