Our wee city. Talk about having everything you could ever want on your doorstep. I mean, a lot of cities possess a lot of great qualities and we might be biased, but Belfast City has everything you could want within a hop, skip and a jump, quite literally.
Belfast, a city rich in culture and history and alive with spirit and split into quarters of sorts. A Quarter would typically suggest being one of four, but in Belfast we have just a few more, each 'quarter' reflects something about a neighbourhood's history. Cathedral, Linen, Titanic, Queens, Library, Market and Smithfield and Union, with more planned for the future. Belfast is an explorers dream, with enough diversity to satisfy even the most seasoned of travellers. We would love to welcome you to one of our amazing apartments to explore the city, whatever the intent of your stay, we have apartments spanning the quarters to be your home from home.
City Centre
Leave your quirky apartment, complete with a stunning flower wall and head out to explore.
Thankfully you don't have to go far from the comfort of your home from home to experience the city's
hustle and bustle in all of its glory. Belfast city is very walkable, with great local bus and train connections close by if you wish to venture further than foot allows.
Seeing Belfast by foot or bike really is an experience all on its own. Taking the long route with no real plan, you'll stumble upon alleys and squares, cobbles and hidden gems at every turn.
Belfast's Cathedral Quarter is packed with all sorts of charming areas, with hidden pubs and restaurants lining the cobbled streets, if you are into your food, then this is the place to explore, jump place to place and immerse yourself in all that this foodie heaven has to offer.
The Market Quarter
The area once had 14 markets, but today only St George's Market, built between 1890 and 1896, remains. It is clear to see why this market has stood the test of time.
Saturday is the day to do as it were. Breeze into the market and be met by the crowds of friendly locals sampling fairly priced delicious food.
Northern Ireland is known for its farm to table style, showcasing local produce, if you are looking for a snack, or present to bring home to friends and family then this is place to visit and explore and it is so close to your accommodation at our stunning Citygate apartments.
If you are hoping to explore all that the city centre has to offer then our Victoria Place and Citygate locations are the perfect spot for you.
Queens quarter
Step in the other direction into Belfast's more relaxed pace, you will find yourself heading along The Golden Mile. Beginning at the renowned Grand Opera House, this stretch of Belfast continues from there toward Botanic avenue and the University area, Queens Quarter. The stretch is home to a never ending stream of artisan coffee shops, classic Irish pubs, one of the most famous being the Crown Liquor Saloon, this will have you stepping back in time, as will the jaw dropping architecture lining the mile.
If you are hoping to explore this side of Belfast, then our Salisbury apartments are perfect for you:
If it is beauty that you are looking for, then you will have to look no further than Belfast's Botanical Gardens, veering slightly off the Golden Mile is Botanic Avenue, home to some of Belfast's most treasured takeaways, grab an artisan coffee from Kaffe-O as you stroll or stop in for a delicious cocktail from the Cherry Blossom interior of the House Bar.
If the weather is good, get a takeaway from Tribal Burger and head to the luscious, manicured gardens and tropical plant houses to relax.
On the river
Last but certainly not least on the agenda today is the riverside of Belfast. Set slightly outside the city centre, our Pottingers Quay apartments boast floor to ceiling windows, with never ending views up the river Lagan. Our Pottigner's apartments are perfect for big groups, with the Harland and Wolff Cranes visible from the rooms, you really can arrive and breathe Belfast in without even leaving the apartment.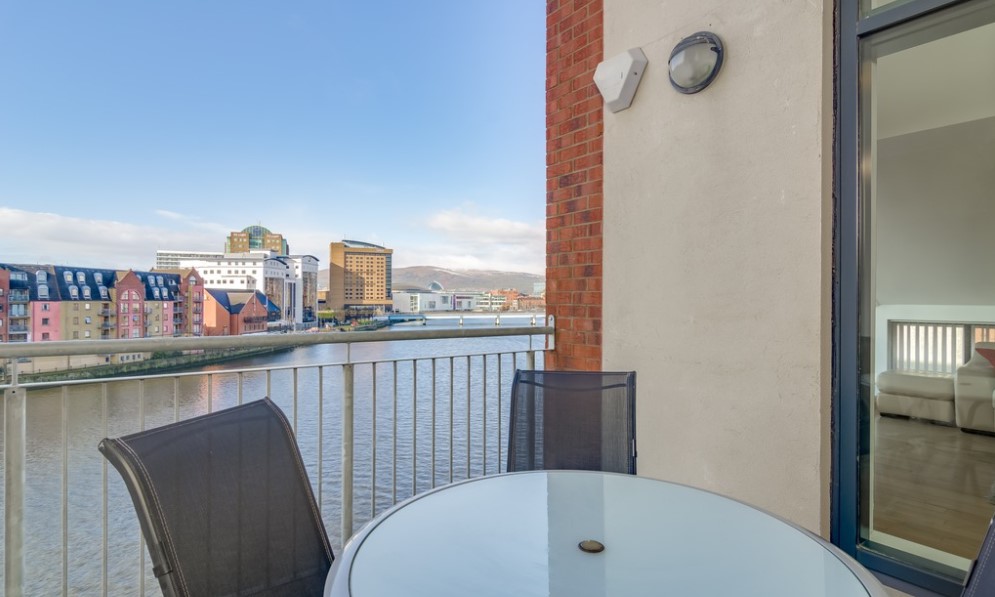 Of course you will leave the apartment at some stage, as you stroll along the Lagan, you'll have 10 minutes of beautiful scenery before you reach the city centre, and from there you can decide what direction of the city you want, walk the cobbled streets and be amazed by the abundance of street art lining the streets and stop for a quick pint or head for a meal and then out on the tiles.
Belfast is a diverse city in so many ways, whatever it is you are searching for on your travels, Belfast will forever hold a special place in your heart and we hope that our Central Belfast Apartments are the cherry on top, making you feel right at home in the city of culture, our wee Belfast.