There's absolutely nothing better in the whole world than opening your chippy and smelling that mouth watering food inside. We all know what it feels like to indulge in a delicious chippy after dreaming about it all day-nothing – it's unbeatable.
Not only do we have the best place to stay in Belfast but we also have the best fish and chips in the world- at least the locals consider it to be that!
It's not often that you come across an amazing chippy that will have you thinking about it every time you're hungry, but John Longs in Belfast is exactly that – an experience that will forever live in your mind rent free..
With the perfect thick cut, 'chippy chips' and fresh cod, it's exactly what a good Belfast chip shop experience is about.
If you're introducing someone to a classic chippy for the first time (and you definitely should introduce everyone) then you need to take them to this place if you are local – or if you are visiting yourself – you won't regret it.
You'll know you're in the right place as soon as you step foot within a few metres and get hit with that warm chippy smell that will make you follow it inside.
100 Years Old
When you step inside, you'll see photos of celebrities that came to visit Belfast specifically for their fish and chips-that's how big of a deal it is!
Being around for over 100 years, it's a tradition and passion to make the best chippy possible.
An Experience your Taste Buds will Not Forget
Whether you're a foodie or not, you'll be able to tell between a bad, an okay and an absolutely breath-taking chipper that you know will become a regular treat. People seek many ways of relaxing and enjoying themselves once they walk out of work on a Friday evening, and the most popular phrase in Belfast at that time has to be 'well…we getting a chippy?'.
We can't be to blame for this when there are such great places right on our doorstep. Anyone outside of Northern Ireland – particularly Belfast- will simply not understand the level of importance this has. Knowing a good chippy is like a god given right in our city, and it's taken quite seriously in Northern Irish Culture.
Pro Tip – Never mess with an Irish person's chippy.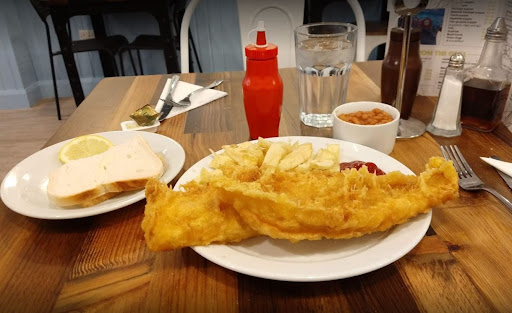 With the long awaited celebration of Paddy's Day 2022 just behind us, you would have seen a lot of the following:
Having Fun
Having Chippy's.
Having Pints
Or more like:
Having Pints
Having Chippy's
Having Fun and Pints
With pubs finally opening back up, Paddy's Day has to go down as the most cheerful day of the year in Belfast and you'll remember seeing plenty of Step 1 and 3.
What better place to go to after standing at a Parade for hours than a gorgeous mouth watering chippy- and you already know where many went to- John Longs!
Make sure to check out our TikTok video and follow our channel.
We are constantly highlighting the foodie places throughout the city – naming John Longs the best chippy – and plenty more views and recommendations on the horizon.