Have you decided to come visit Belfast? Amazing. Firstly, you'll need a place to stay once you read the best places to eat in Belfast you won't be able to stay away. Apartments are becoming really popular alternatives to hotels and offer a more unique and personal experience. You should check out our Serviced Apartments in Belfast for a memorable place to rest your head as you venture through the city and check out the foodie heaven that is Belfast.
Okay, let's get down to where you can eat. Here's some ideas of great places that will make your stomach rumble with excitement! 
Himalayan Nepalese and Indian Restaurant
If you love tasting different things, this Himalayan/Indian restaurant is the best place to get a wide selection of different flavours, spices and vibrantly coloured dishes.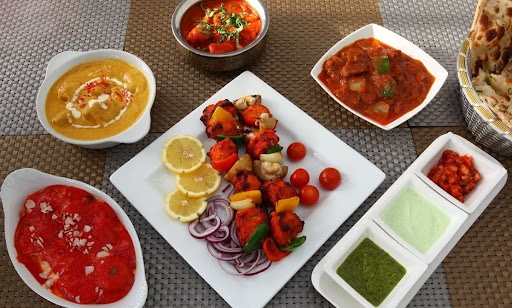 This restaurant combines Indian and Himalayan Nepalese Cuisine seamlessly, with a culturally diverse and enticing, all in one menu which will leave you wanting to come back to try all of the things you didn't order. Dipping perfect poppadum's into various sauces, with a 'mmm yum' after every bite guaranteed. Sweet, spicy, minty, the list just goes on. This is definitely one to add to your list while you are in town.
Nu Delhi
Belfast really is a foodie city, and the locals in Belfast just can't get enough of the Indian food that we have on offer – simply because it is too good to say no to. Nu Dehli is the perfect choice for you if you are heading out into town after and just a short stroll from our centrally located apartments in the city centre. 
With a wonderfully ambiance and mood lighting, Nu Delhi is the perfect place to relax, unwind and enjoy authentic Indian cooking at it's finest. The cocktails on offer here are to die for, with one of Belfast's best cocktail bartenders to tend to your every sip.
The Welcome Restaurant-Asian Food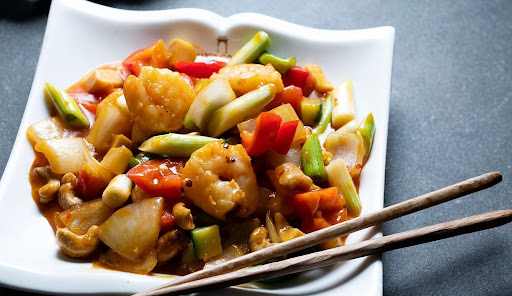 If Asian cuisine is right up your street then Welcome is the one for you – you will just fall in love with the melt in your mouth dishes that are packed with authenticity
With a big Buddha statue welcoming you in the doors, you can't help feel yourself soaking in the culture. With all of the usual favourites on offer, there are also chef's specials that are put on for you to choose from. The staff are wonderful, the area is great for a stroll home after, with bars that are popular with the locals on your dander, you will be sure to have a fantastic night here.
Ben Madigan's Bar and Kitchen
If you're looking for a traditional pub with nice grub after a busy day exploring the city, then this is just the place to rest your feet, fill your belly and experience classic Irish culture and cuisine. 
At Ben Madigan's Bar and Kitchen you'll get your Steak or Burger dinner with a refreshing cold pint. If you're having drinks, this place has some amazing fancy Cocktails, but often you just can't beat a pint of the black stuff
BLU restaurant 
Ambiance and great food. If you're looking for an atmospheric place to eat with drinks and a quirky presentation of food, you've found the spot. From food presented in cocktail glasses, slim plates and interesting decoration-it definitely makes for a unique experience. You'll also be able to enjoy a classic Mojito, Strawberry Daiquiri and many other cocktails-all in a blue lit setting.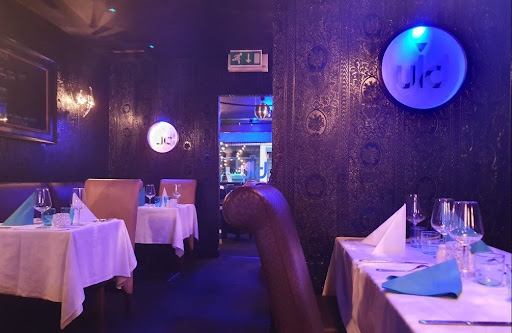 Manny's Fish and Chips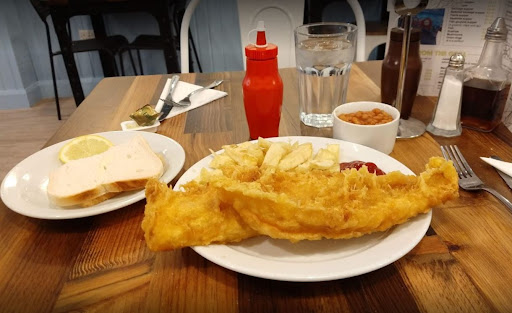 Before leaving Belfast, you need to try the best Fish and Chips in the city. A place that lives in the hearts of the locals and fuels some of the culture in Belfast. 
Manny's Fish and Chips are known for their traditional chippy chips and fresh cod. If you're craving a 'chippy' – this is the place you don't want to miss.
A firm favourite for a reason – you will not be disappointed. Even just a battered sausage or a curry chip to takeaway as you dander the streets soaking in the unique and delightful buzz of the city whilst enjoying the street art lining the streets.
Kamakura Sushi & Ramen Restaurant

Calling all the sushi lovers and those who want to finally give it a try! What better way to enjoy sushi than on a boat?-quite literally. If you love having fun with food presentations and need that good Instagram pic (Check out our other instagrammable places in Belfast) then this is the place to dine. Both in taste and in aesthetics. 
 With refreshing cocktails and beers on offer (bottles), you get the best of both worlds! 
I would genuinely recommend everything off this menu – no exaggeration. Top tip if you are visiting here, talk to the staff, they will suggest dishes for you and they sometimes have special extras on offer for a few lucky guests to try.
Finding the right place to stay and eat can be a bit daunting when you aren't familiar with a city. You want to make sure your trip is the best it can be. We have a wealth of information on things to do in Belfast, apartments to stay, food to eat,  as well as local accounts and recommendations to keep you right.
 With unique apartments in central Belfast , Central Belfast Apartments are ready to welcome you to the city. So browse some dates and make a booking for your perfect city break..
Staying in our self catering holiday apartments in Belfast is described by previous guests as a dream, close to the city, while enjoying some really funky interiors and having a great weekend guaranteed and making memories that you will not soon forget.
Be sure to follow Central Belfast Apartments on Tik Tok for videos on food places while you are visiting.