If you're planning a trip to Belfast, it's great to know the best walks around, so you can spend some time exploring the outdoors and take in some great views. Cave Hill Trail is a must see destination in Ireland and the photographs speak for themselves, but if you want to experience the place in full, you should definitely make your way down for the day. 
While you're walking around and taking in some amazing scenery, you'll need a place to stay after your long day. You can rest assured that you won't need to look fat before you find some beautiful and unique serviced apartments in Belfast which will be an experience in themselves. 
Apart from this, there's some great places to eat in Belfast and you can find some recommendations on a Tik Tok account as an Airbnb owner takes you through some great finds. 
But firstly, let's take you through this great walk in Belfast. 
Cave Hill Trail
If you love a good hike rewarded with beautiful scenery, you'll definitely enjoy Cave hill. Just 10 minutes outside of the centre you'll find this 370 metre climb. 
Resembling the face of a sleeping giant, the hill has some historical associations and has even been the inspiration behind the famous Gulliver's travels tale-you won't want to miss this. 
The route is a little challenging with some unsurfaced paths, which is great for those who like the feeling of exploring away from what feels like your typical park walk. There is an easy route to take if you don't feel like climbing and just want to have a simple walk.
You'll not only see some great panoramic views at the top of the hill but you'll get to see some wildlife (so make sure to bring a camera, or your phone). If you love some history, you'll be glad to hear there are archaeological sites you can explore too.
To see a video showing off Cave hill you can find it here, where owner of Central Belfast Apartments takes you through the breath taking trail.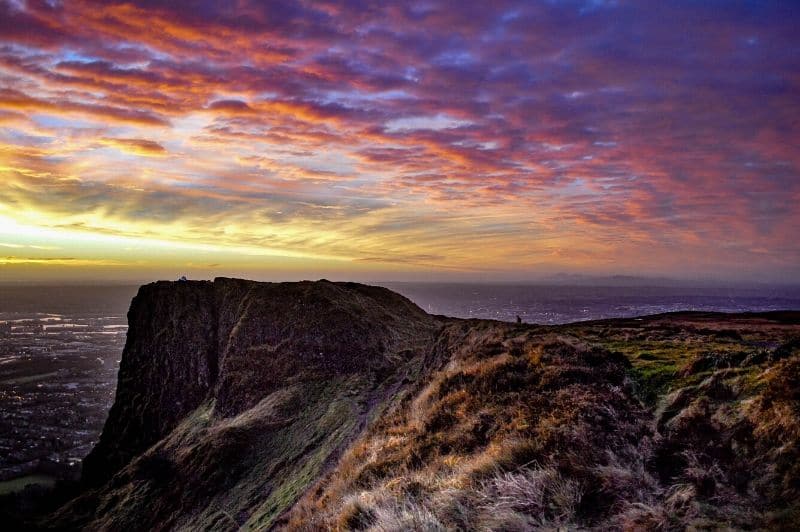 Key Points of the Walk
You'll notice the castle as soon as you arrive, which is a great spot for some photos and you can grab a tea/coffee here before your walk (you'll see a coffee truck).  You can start climbing up the path on the left and if you want to take the woodland tail, turn right at the next turn you come towards. 
This will take you on a nature walk through the trees where you'll also find some seating areas if you want to take a short break or simply admire the views. You'll be able to see Belfast city and Lough from here. 
Next up is Devil's Punchbowland you'll find the very first cave here. To keep climbing up (which leads to even greater views) then keep to the right of the cave.
Turning left onto the cliff top keep walking towards McArts Fort, but remember to take some breaks to admire the beautiful scenery! 
It's always a great idea to bring a small picnic and a blanket and sit in town to take in the breathtaking views, and if you're ready to go you can climb the steps down to the main castle drive. 
The views aren't over just yet as you'll be surprised by a beautiful waterfall as you continue Cavehill trail and turn left. This takes you to the Upper Cavehill Road entrance, re-enter the site using the entrance on the left and follow the path into the woodland. 
Now that you have a good idea on what to do while you're visiting Belfast, you can also check out some places to eat at Central Belfast Apartments Tik Tok. 
With your trip planned, all you need now is to book a nice holiday apartment which you can find on our site where there are plenty of options for you to choose from.