Life goes by in the blink of an eye, something you hear consistently throughout your life. Filled with memories and milestones, you plan trips to commemorate occasions and explore the cultural experiences that cities have to offer. So you pick your destination with a lot of research, make your list of the top sights to see when you get there, but is your accommodation up to scratch?
Your accommodation can make or break your trip, it is an added dimension of your trip- can you imagine the most amazing day, only to come back to an apartment with no signs of the local culture?
You can be rest assured that after a long day exploring, wining and dining through Belfast's fantastic tourist attractions, bars, and restaurants, you want one of our sanctuary's to return to, a luxurious shower to wash the day away and a sofa so comfy you can relax and recoup for the next day.
Central Belfast apartments aren't just apartments, they are a memory that you will carry forever. We have serviced apartments located across Belfast. With prime locations to suit any visit to the city, our stylish, 'Instagrammable' apartments are the perfect place for you to base from as you explore all that Belfast has to offer. With unrivalled customer satisfaction levels and an abundance of quirky features, we are here to make your city break one that you won't soon forget.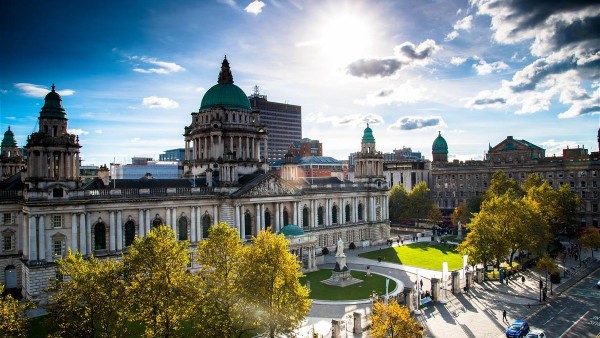 You should think about your needs, personal preferences, and your trip's itinerary and talk to us, we will help you make the best decision on your accommodation. From anniversary getaways to family holidays, our wealth of experience in accommodation and sights to see around our wonderful city will help put your mind at ease and all you will have to worry about is arriving and diving straight into your much deserved time away.
A few of our apartments;
18 Citygate
This apartment is a crowd pleaser, what we like to call an all rounder. With its modern vibes and intense pops of colour to greet you as you walk through the door, there are quirky features at every turn.
Whether you are looking for somewhere suitable for a family break, or a weekend out in the city with friends, this home away from home sleeps six and is the perfect base.
Think bright cloud painted doors, quirky tiles, industrial style light fittings on brick walls, quirky suitcase wallpaper and the most luxurious of showers to wash off the day gone by. Into the open plan kitchen living area, you're met with an entire chalkboard wall.
The perfect Instagram photo backdrop with your 'wish you were here' caption written, or the perfect place for the kids to entertain themselves while you throw yourself back onto the squishy sofa and open up the complimentary bottle of wine we've left for you – Do you know of any other stay that throws in a bottle of wine?
Just a stone's throw from Belfast city hall, you can arrive, open the balcony doors to embrace the city vibes and head straight on foot to discover Belfast.
52 Citygate
We have put our heart and soul into these apartments, with our focus on making your stay unforgettable at every turn. This wonderfully quirky apartment sleeps six, with an underground car park if your road tripping in. 
Have you ever stayed in an apartment with a flower wall? If you'd like to then this is the apartment for you, with bright orange and yellow popping through the wild green foliage, tied in with plush yellow cushions, this apartment is quirky, cool and the perfect backdrop if your heading for a night out in the Bar's and restaurants that the surrounding area has to offer.
An experience, that's what you hope for anywhere that you stay. You want to leave what you know behind, embark into the unknown and experience life in its rawest form. This apartment is sure to exceed your expectations at every turn, from its central location to it's engaging positive vibe. 
35 Salisbury
Walk-in and you're greeted with a squishy sofa, plush cushions and a wall lined with quirky paintings of some of the city's most notable sites turned and greeted by a bright and welcoming homely kitchen with a feature yellow wall and intimate dining area. This snug apartment is perfect for a couples weekend away. With an extremely comfy bed, well, so the raving reviews tell us and a shower that will rival any shower you've ever had.
This is the perfect cosy getaway, sit back and relax and watch your favourite show on our 40" wall mounted TV equipped with Netflix. What goes well with Netflix? Could be the Tayto crisps and Bin47 that we've left for you to enjoy?
Friends, families, city breakers, these are just a few of the apartments that we have to offer to you, our culturally reflective apartments are sure to be a part of your trip that you never forget!
With a chance to win £200 by leaving us a review after your stay, which we are sure will be glowing, why not book your stay with us today at Central Belfast Apartments. Join the thousands of happy customers and come make memories with us.